The Arcus - Kontakt Instrument
Order your Friends With Benefits Too record here, the second instalment of Biblo.tv's Friends With Benefits series. This record was carefully curated by Markus and is a literal smorgasbord of delectable mind-heaters. Some of the featured artists are Sibot, Felix La Band, Zane Schaffer to name a few. As always Side 1 Kills, Side 2 is Sunday afternoon driving music.
The Arcus is Wormstorm Industries first Kontakt instrument and is inspired by the Alien franchise . Arcus is a cinematic tool used to create cinematic 'spread effects' used in composition. To create it we recorded over 3 hours of Double Bass and Violin.The end result is a moody instruments that allows composers to effortless move between keys and chords, as well as build tension.
The Tale Of How Coffee Table Book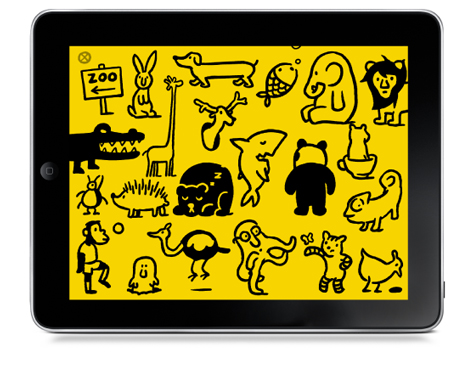 The Tale Of How Book
We're selling a limited addition of The Tale Of How, a illustrated book written by Markus Wormstorm for The Blackheart Gang. To order a copy please send an email to m@rkus.tv with the subject line Book Order.
Petting Zoo App
21 beautifully animated animals. Full of surprises, wit and quirky animations!
"A wonderful App for all ages!" "Absolutely adorable" — USA TODAY
Over 1 million downloads!
From acclaimed author and illustrator Christoph Niemann comes this interactive picture book. Swipe and tap the 21 animals and be surprised at how they react. This app combines the charm of hand made animations and Niemann's wry humor with state of the art technology. What would an elephant in your bathroom do? Can a dog breakdance? A storybook app unlike all others!
Not I, But a Friend by Markus Wormstorm
2013 M=Maximal/Kompakt.fm
"exceptionally sophisticated" - Rolling Stones
"He unfolds lush, unwinding soundscapes, rich with moods and sounds of the past. Feels like the score to a great movie I haven't seen yet. " -Spoek Mathambo
"The Godfather of SA electro" -IDJ magazine
"Markus Wormstorm has created an album of lush and dark pulp fictions, a haunting soundtrack for an imaginary film I'd love to watch." - Lauren Beukes, winner of the Arthur C. Clarke award
"Markus manage to create a wormhole between this world and that other place. It is beautifully frightening but do not be afraid. He sure aint." - Inge Beckmann